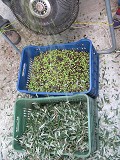 Fan separating leaves from olives
Our olive terraces are located in the village of Apollonia amongst the Eleonas Apartments and Studios.

We have 32 trees of the Koroneiki variety and the trees are approximately 30 years old.

The trees are organically maintained throughout the year without using any pesticides or insecticides. A highly effective sugar and water solution is hung from each tree in a plastic bottle. This is used to trap any insects particularly the dakos fly.

In November the olives are hand picked and hand sorted to remove any leaves. A fan is used to blow away the remaining leaves and separate them from the olives. The olives are put into bags and taken to the olive press where they are washed. The olives are then pressed only once and the oil is extracted.

We expect to harvest around 2,000 kg of olives each year which yields approx 170kg of oil.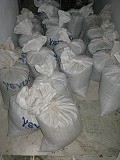 Olives in bags